Announcements
ColonoscopyAssist welcomes Iberia Gastroenterology Associates in New Iberia, LA to the program
01/10/2016 - Iberia Gastroenterology Associates in New Iberia, LA will now be providing colonoscopy procedures to our patients in the New Iberia, LA region. Welcome to the ColonoscopyAssist program.
ColonoscopyAssist welcomes Colorectal Surgical and Gastroenterology Associates in Lexington, KY to the program
01/04/2016 - Colorectal Surgical and Gastroenterology Associates in Lexington, KY are now the newest participant of the ColonoscopyAssist program.
Northeast Gastroenterology Associates joins ColonoscopyAssist Program
09/30/2015 - Northeast Gastroenterology Associates in Salem, NH are now the newest participant of the ColonoscopyAssist program. Dr. Cohern and her team will be providing care to our patients in the Boston area.
San Juan Hospital joins ColonoscopyAssist Program
7/13/2015 - San Juan Hospital in Monticello,UT is now the newest member of the ColonoscopyAssist program. This is particularly exciting to the program as rural community hospitals like San Juan Hospital allow the program to reach out and provide colon cancer screenings to rural communities in Utah.
Lonestar G

astroenterology

joins ColonoscopyAssist Program
6/14/2015 - Lonestar Gastroenterology will be participating in the program starting from 6/15/2015. ColonoscopyAssist would like to thank Dr. Gowri Balachandar for providing colonoscopies to our patients.
Yorkville Endoscopy Center and New York Gastroenterology Associates join ColonoscopyAssist Program
1/1/2015 - New York Gastroenterology Associates and Yorkville Endoscopy Center have agreed to participate in the program starting from 1/2/2015. ColonoscopyAssist would like to thank Dr. Jay Desai for assisting our patients.
Rate changes effective January 1st 2015
12/1/2014 - Beginning January 1st 2015, ColonoscopyAssist will change its rate for a colonoscopy to $1075. The new rate will include pathology and prep kit costs creating a truly all-inclusive flat rate. Any forms returned during 2014 will be honored at older pricing if the patient prefers.
ColonoscopyAssist featured in Beckers ASC Review
8/26/2014 - The program was featured in Beckers ASC Review, a Gastroenterology Industry magazine. The article discussing bundled payments for Colonoscopies can be found at :
http://www.beckersasc.com/gastroenterology-and-endoscopy/how-one-program-is-bringing-bundled-payments-to-colorectal-cancer-screening.html
Sharon Eiring from San Antonio, TX wins Colonoscopy Assist draw at DDW 2014
5/6/2014 - Congratulations Sharon Eiring from San Antonio, TX on winning an Ipad Mini at the drawing at our 2014 Digestive Disease Booth.
We thank everyone for participating in the draw and look forward to seeing you at our booth next year.
Ready For Digestive Disease Week 2014
5/3/2014 - We hope to convince more wonderful GI physicians to join our program to help the uninsured this year at Digestive Disease Week 2014. DDW is one of the biggest annual Gastroenterology show. Wish us luck!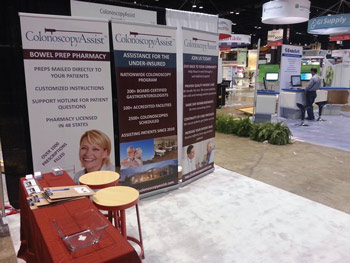 Visit us at Booth #2514 at Digestive Disease Week (DDW 2014)
April 23rd, 2014 - Colonoscopy Assist looks forward to meeting the Gastroenterology community at Digestive Disease week in 2014 in Chicago. We invite you to drop by our booth and talk to us.
Gastroenterology and Surgery Center of Arkansas joins program
April 11th, 2014 - Gastroenterology and Surgery Center of Arkansas is now participating in the Colonoscopy Assist program allowing us to bring this program to the residents of Little Rock AR.
Abilene TX now available for scheduling
April 9th, 2014 - Abilene Endoscopy Center and their wonderful physicians have decided to offer low cost colonoscopies via the Colonoscopy Assist allowing us to bring this program to the Abilene, Lubbock TX region.
Salt Lake Endoscopy Center joins Colonoscopy Assist
April 3rd, 2014 - Colonoscopy Assist would like to welcome Salt Lake Endoscopy Center to the program. Thank you for accepting our patients.
Closed due to weather
February 5th, 2014 - Our offices are closed today Wednesday February 5th 2014 due to the snow storm. We apologize for the inconvenience and should be back in office tomorrow.
Passing away of Dr. Sham Gupta
We would like to extend our deepest condolences to the family of Dr. Sham Gupta.
We would like to thank the family for the exceptional care and respect he provided our patients for over 2 years and for the countless lives he saved during his career.
Dr. Gupta believed in us and our vision at a time when others didn't and we will forever be indebted to him for his help and advice.
We Are Moving!
June 25th 2013 - ColonoscopyAssist is delighted to announce its upcoming move from its current location in Chicago IL to a new space in Bensenville, IL.
As of July 1st 2013, ColonoscopyAssist will be relocate both its offices to its new location at 1325 W Irving Park Rd, Suite 100, Bensenville IL 60106. The new location will allow the program to accommodate additional staff as ColonoscopyAssist begins to expand its Bowel Prep Assistance services.
Job Opening: Experienced Accountant Needed
April 27th 2013 - ColonoscopyAssist is looking to hire an experienced accountant. Must be based in Chicago and familiar with 501(c)(3) regulations and practices.
Interested or know someone who might be? email us at careers@colonoscopyassist.com
Scheduling in Omaha, NE to begin in March 2013
February 7th 2013 - ColonoscopyAssist is excited to announce that procedure scheduling will commence in Omaha, NE beginning March 2013. Nebraska will be the 34th state where the program is able to provide to provide low cost colonoscopies.
Patient Reviews now available
February 1st 2013 - We are happy to announce our new page allowing our patients to leave reviews about their experience with their program.
Patient reviews can now be read at colonoscopassist.com/Reviews.html
Closed for Christmas
December 21st 2012 - ColonoscopyAssist offices will remain closed on Monday December 24th and Tuesday December 25th for Christmas.
Our team would also like to take this opportunity to wish you a Merry Christmas and Happy Holidays.
Closed for Thanksgiving
November 22nd 2012 - The ColonoscopyAssist program will remain closed on Thursday November 22nd and Friday November 23rd in observance of the Thanksgiving Holiday.
Our team would also like to take this day to thank our patients for giving us the opportunity to assist them.
Thank you to our Veterans
November 12th 2012 - On this Veterans day, the ColonoscopyAssist team would like to thank our veterans for the incredible sacrifices you have made out of love and devotion for this country.
You fought to defend our freedom and have put your lives on the line. Many have suffered or given their lives, so that we could live soundly and safely in our homes.
We will never forget what you have done for us. Thank You.
Appointments rescheduled for individuals affected by Hurricane Sandy
October 30th 2012 - Due to a number of patients affected by the recent hurricane, ColonoscopyAssist will be suspending its no show and cancellation policy until November 7th 2012. If you are unable to make it to your appointment, please call our office to reschedule your appointment.
Introducing Direct Scheduling
May 7th 2012 - In an effort to further reduce appointment processing times and scheduling backlogs, ColonscopyAssist™ has taken the decision to introduce "Direct Schedule Appointments".

Through the new system, eligible patients submitting online appointment requests will be able to directly receive an appointment confirmation the same day without needing to speak to a scheduler first. The new scheduling system is being introduced in a select number of cities, with the hope to expand the offering to all cities with time. As an incentive, patients using Direct Scheduling will be offered a credit for their procedure.
The move comes after a recent business process optimization study conducted found that a significant portion of resources were being spent on trying to reach patients on the phone. Direct scheduling will allow ColonoscopyAssist to efficiently schedule more patients as new cities are added through the year.

The Direct Scheduling process has been carefully created to ensure that the quality of healthcare received is not affected in anyway.

Happy New Year!
January 4th 2012 - Happy New Year ! ColonoscopyAssist™ is looking forward to another year of assisting our patients with their colon cancer screenings. We are particularly excited about a number of changes coming to our organization.
In January, we will be bringing on additional staff that will allow us to get further involved in local communities to increase colon cancer awareness.
Furthermore, we will be expanding the program through the course of the year by adding an additional 21 cities to our current offering. This will leave a grand total of 72 cities where patients can get screened.
Happy Holidays!
December 19, 2011 - As the end of the year approaches, we would like to thank every one of our patients for giving us the opportunity to assist them.
We would also like to take a minute to sincerely thank our healthcare facilities and their employees for a great year of support and service.

We wish you a Merry Christmas as well as a happy, safe and joyous New Year. We look forward to working with you again in 2012.
Appointment processing time for patients now reduced to 2 weeks
December 17, 2010 - ColonoscopyAssist™ will now process appointment requests in a maximum of two weeks from the day a request is received.
With the new limit to 30 appointments per month in effect, resources will be freed up to process appointment requests at a much faster rate. In the event of a true urgent request, the request can be processed and scheduled within 24 hours.
Free colonoscopy screenings offered now in Wyoming
November 29, 2010 - Uninsured patients residing in Wyoming are now eligible for a colonoscopy screening completely free of charge.
Through a colon cancer screening program funded by state of Wyoming, ColonoscopyAssist™ will help patients apply for the grant and have their screenings completed.
If you are interested in enrolling in this program, please request an appointment as normal and state your city and state in the "If Other Requested City" field. Details about eligibility requirements and formalities will be provided once the request is received.